Ross: What kind of job is that for a man? A nanny? It's like if a woman wanted to be……….
Rachel: Yes?
Ross: King?
Friends is one of my favorite tv shows, and unless you've been hiding under a Y2K cave all these years, you've heard about it too.
However, what our resident nerd Ross seems to be forgetting about here, is that no profession should be limited to a Gender.
A person's abilities are what us Pro Humans like to preach about these days.
Today's blog post is for all those boys out there who want to make a career as a Steward.
Air Hostess for Male – Some assume it is a laughable concept, but the reality is that it is one of the most coveted jobs out there.
The pay is excellent without initial hefty investment and the perks are the standard ones applicable to everyone in the Aviation industry.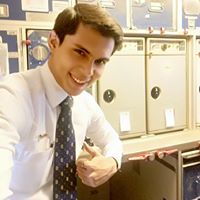 Qualifications/Eligibility Criteria of Air Hostess for Men:
Age – The minimum age requirement to apply for the job is 18 for Domestic Airlines and 21 and more for International airlines.

Height – The minimum height requirement for the steward is 5.7" or 173 cm.

Weight – A candidate is supposed to have an ideal Body Mass Index, so, the weight should be proportionate to the height.

Educational Qualifications – The minimum qualification required to apply for the job of a steward is 10+2.

Medical Requirements – Due to the fact that Stewards are responsible for handling a large number of passengers in a plane, they should not have any history of mental illness.

Eyesight requirement is 6/9.Also, a steward should not have any serious medical problems which might affect their ability to perform their day to day tasks.

Physical standards – Since, Air Hostess is a very glamorous job, Stewards are considered the informal brand ambassadors of every airline. As a result, stewards should have a clear complexion and no visible tattoo or piercing.

Passport – Stewards should be eligible for an Indian Passport.

Marital Status – The steward can be married or unmarried. This parameter is completely dependent on the type of Airline you apply for.

Language – The candidates are supposed to be proficient at every aspect of the English language. And the more the number of languages a person is fluent in, the more preference he is given by an Airline.

Behavioral Aspect – A metal box flying 20,000 feet up in the sky, what could go wrong? Well, Everything! The steward and Air Hostesses are supposed to maintain peace when everything else is going to pieces. (Yes, it's called Word Play!)
Here are some of the behavioral qualifications that you must have if you want to work in the Aviation Industry:
Attitude – In order to make sure there is order in the flight stewards must have a positive attitude at all times. They must be reasonable and pleasant.

Personality – Candidates with a calming personality are given higher preference in this career option. So, you have to make sure that you control your inner rule-breaker.

Work Ethic – Stewards are sometimes required to work hard and long hours at back to back flights, as a result it becomes critical for the candidates to have a strong work ethic. Stewards should be willing to work hard and have a positive position.
Presence of Mind – Stewards are supposed to be quick thinkers so that they can handle difficult situations with ease. A candidate with a sharp presence of mind is always preferred by the big Airlines.
Air Hostess Salary:
The aviation industry is one of the highest paying industries and the salary of Stewards are enough to help you grow your bank balance amount.
The salary of Air Hostess for men is dependent on several factors:
Type of Airline you work for (Foreign, Domestic, Full-service carriers and Low-cost carriers)

of years in a particular position

Job title

Personal brand – dependent on the profile of the training academy they passed out from
If you get a job in domestic Airlines, you can earn up to Rs. 25000- Rs.40000, after getting promoted at senior positions you can be paid up to Rs. 50000 to Rs 75000.
Here is a chart of average salary range in the Aviation Industry with a job experience of 0 to 2 years:
| | |
| --- | --- |
| Job Category | Annual Salary |
| Flight Attendant | Rs. 480,000 to 675,000 (Approx.) |
| Senior Air Hostess | Rs. 550,000 to 825,000 (Approx.) |
| Ground attendant | Rs. 504,000 to 735,000 (Approx.) |
| Cabin Crew | Rs. 504,000 to 702,000 (Approx.) |
| Customer Service Agent | Rs. 360,000 to 432,000 (Approx.) |
Air Hostess Training Fees:
A big step in becoming an Air Hostess for male is getting into the right training academy, the training fee charged by different institutes are different and is dependent on a series of different factors, some of these are listed here:
Type of Institute (Government, Private, Aided, )

Location of the Institute (Mostly as Institutes in big cities charge more fee, as they can provide better opportunities for placement to the students)

Status and the rank of the Institute

Scholarship status of the candidate

Length of the Course enrolled in

Type of the course selected
Air Hostess Course:
There are three types of courses you can avail if you want to become an air hostess for men:
Certification Course – The candidates can apply for the certification course if they have successfully passed their class 12th The length of the course is 6-12 months, and if time is a concern, you can apply for the fast track certification course.

Diploma Course – The Diploma course can be also applied to, if you have a 10+2 degree. The length of this course is 1 year and is considered a better alternative than the certification course.
Air Hostess Recruitment Companies:
Once you are done with your training process, you are likely to sit for the placement process of the following companies:
Air Hostess Placement Process:
Written Examination

Group Discussions

Personal Interviews
If you ever dreamt of joining the Aviation industry then there's no better path than joining as a steward.
Follow your passion!