Dreaming to become an air hostess? If yes, then why don't you get into a premium air hostess institute from where you could easily get the professional coaching to become a suitable candidate for the job.
Gone are the days, when becoming an air hostess was restricted to only a group of people in the society. With the more and more openings of air hostess training institutes, it has become little convenient to go and live the dream of becoming an air hostess.
So, do you know what wonder these coaching can do to make you suitable and fit for the position? From taking care of your presentation to groom you with the perfect body language, these air hostess institute does all. Other than these, there are many other advantages also that comes hand in hand, when you choose to be a part of these air hostess training institutes. But before going ahead with the coaching, you should first know whether you are qualified enough to become an air hostess or not. Apart from the coaching, there are some pre-requisite that should be met before taking the air hostess course.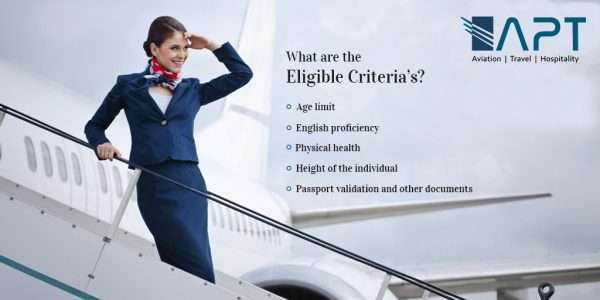 What are the eligible criteria's?
Here is the list of important criteria that should be followed:
This is true. If you are dreaming to become an air hostess, you must fall in the age limit with minimum to maximum bracket of 18 to 26 years of age. Candidates that exceeds or does not meet this age criteria limit may find it very tough to get job interviews, considering the candidate is a fresher. Hence, to live your dream of becoming a successful air hostess, you should consider your age group too.
No matter, whether you are going to apply for domestic or the international air lines, it is one of the mandatory criteria to know how to communicate and converse in English language. It is considered as one of the prime factor that can offer you the chance to attend and pass your upcoming criteria of becoming an air hostess. Apart from this, if you are able to confidently converse, along with written and reading knowledge, of any local or foreign language, then it will definitely give you an edge and will further your suitability for being a candidate for the job position of an air hostess. However, to upgrade your communication skills to standard as needed by the industry, you can always groom yourself with the available air hostess courses which aims at developing your skills more than just bookish knowledge.
There are certain height criteria that should also be met with perfection, if you are willing to become an air hostess. Many of the prestigious air hostess training institutes, at times may not be very specific in clarifying the height criteria, as they can say that for training height is not the criteria, and they are telling the truth because height is a criteria for getting the job, so some may just want the training(maybe to enhance their personality) and not actually interested in airhostess jobs then for them height should not be an issue, however if you are aspiring to be an airhostess and are joining the coaching for the purpose of becoming an airhostess than for you having the needed height is important and should be considered. A minimum of 157.5 centimetre height is essential to become an eligible candidate for the position of becoming an air hostess. So, if you have the height that impresses the world, then go ahead and take the classes to groom yourself in and achieve your dream.
As an air hostess, you need to fly frequently. To be adaptive to such atmosphere, it is necessary to be physically healthy and fit to perform the duties. Individuals who have phobia of height or is suffering from any other physical or psychological ailment which can be a hinder in performing one's duty while being an airhostess, you should ideally have such problems identified and properly rectified before preparing yourself for the airhostess job or at least should be confident enough that such ailments would get rectified during the coaching period itself and before the interview takes place because after selection airlines will send you for medical checks failing which might result in the loss of your job, so better be prepared from beforehand.
Passport Validation and Other Documents
Last but not the least, when you are taking up the job of an air hostess, you need to see that all your documents are in order and passport is one of them specially if you are aspiring to join an international airline, even if not, than still to you should have it made, as nevertheless it is an important document. Once, you are sure about your documents, you could easily take coaching from any premium and reputed air hostess institute which will help you to go ahead.
Now, when you are well aware of all the important eligible criteria of becoming a successful air hostess, then you should definitely go ahead and take part in learning and training yourself for and be a part of a good and reputed air hostess training institute and live your dreams.
Planning to enroll yourself in a reputed and renowned air hostess course that gives wings to your dreams and makes you fly high?? Choose to get yourself groomed by the industry's best air hostess institute; APT and fearlessly achieve your dreams.
For more information, feel free to connect with the team of APT.