Dress to impress: Your Guide to dressing up for the Air Hostess Job
The surreal feeling of weightlessness, with every mile that the flight puts between you and the hard ground reality;
All the problems are forgotten as you imagine yourself piercing the deep blue sky,
You close your eyes – Hoping for a better tomorrow,
Flying does that to you, for a moment it shows you how small your vast city is and how big the endless sky.
Adding a splash of color to this equation – The Red, Blue, Green, Yellow, and Pink of the Air hostess's uniform.
Dress Right: Standards of the Industry:
Air Hostess uniforms must be spotless and ironed before the showtime while they are away from the base.
Shirts are supposed to be tucked in.
The Air Hostess is not allowed to change the original design of the uniform. However, some alterations for fitting can be done.
Tennis shoes are an industry favorite and should be paired with socks.
Only one ring on each hand for both males and females is considered acceptable. An engagement ring is usually regarded as one
Necklaces: Short chains are deemed acceptable
Men are not allowed to wear earrings. Also, no one should have a visible piercing.
Earrings worn should not be larger than a 50cent piece. Gold, silver and platinum earrings are preferred, and a minimum of two earrings per ear are considered acceptable. Dangling and Ear cutoffs are not allowed in most of the Airlines.
Air Hostesses are allowed to wear chic watches.
It is also an Air Hostess's duty to make sure that company issue wings are worn while on duty on the left side of the dress above the company logo.
Sometimes Air Hostess also wear ICS promotion pins.
Changing through the Ages:
The Very Beginning
– Back in 1946 when Air India introduced the concept of Air Hostesses in India, the Air hostesses were mainly Anglo Indian or British women, wearing tailored suits and sporting a sleek European style. For almost two decades this was the look of Air Hostess.
Mysticism
– During the 1960s, India started being positioned as a mystical land, to maintain this exoticism, Airplanes also started catering what the rest of the world wanted – Indian Culture. This period saw the rise of Lehenga choli, Churidaar, and Silk Sarees. Airlines were putting great thought on the type of dresses Air Hostesses were wearing, and only the most expensive textile was being used for the purpose.
The visual Appeal
– 1970 onwards, Air Hostesses were acting as a branding symbol for various Airlines. They were featured on magazines, billboards and doing full-length photoshoots.
Exoticism
– The year of 1973, Air India came up with an ad that read "Next time you fly 747 to New York, be unfaithful." This was the beginning of the whole sultry appeal given to the Air Hostess persona.
Saree not sorry
– The 80s, 90s and the early 2000s were devoted entirely to colorful sarees. Chiffon being the queen of the revolution. The most memorable of them all was the Red saree look of Air India which defined India's aspiration for air travel.
Skirt over Saree:
Although Air India retained the Indian Saree look, many new age Airlines portrayed themselves as Global, adopting western blazer, shirt, and skirt. This trend started in 2008, with King Fisher and Jet Airlines leading the race. Airline companies started partnering with Stylists and Fashion designers to come up with a unique look just for themselves. Indigo hired the fashion designer Rajesh Pratap Singh for the uniform and makeup expert Ambika Pillai for the hair and makeup. Vistara Airlines partnered with the fashion house Abraham & Thakore to develop their famous Aubergine and gold dress. Meanwhile, who can forget the bright yellow dress of Jet Airlines? Perfectly groomed and sporting an impeccable style – Airhostesses today are walking the aisle like supermodels.
Functionality over Glamour:
Historically, Airlines heavily regulated the look of Air Hostesses; they had rules on makeup, hair, and clothes; however, now the priorities have changed. Airlines have Nowadays, while the dresses are still smart, Airlines mostly prefers functionality over visual appeal. Air Hostesses are supposed to fly much longer than they did earlier. Security and safety are also a primary concern now, so, the main emphasis these days is on comfort. There's also an evolved approach to the role of an Air Hostess – they are also doing a job, and unnecessary glamorizing doesn't serve any purpose. Many Airlines like Air India have started to ditch their old customs and are now adopting Trousers as an alternative to the trusted skirt.
Air hostess Uniform Across the globe:
Aeroflot Airline
–
Aeroflot
is a Russian airline with suit-like red uniforms also including bright white gloves, ascots, hats, and pointed-toe heels.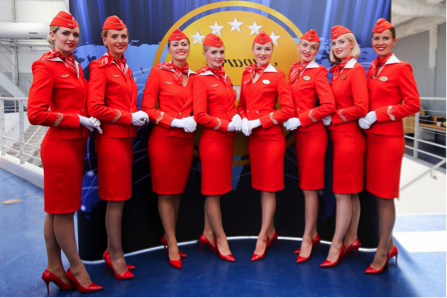 Singapore Airlines – Air Hostess working for
Singapore Airlines
wear patterned full-length shift dresses, they complete the look by parting their hair in a sleek updo.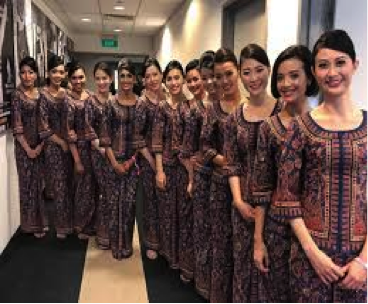 Etihad Airways – Flight attendants of this airline wear purple skirt suits with patterned blouses, and this dress was unveiled in 2014.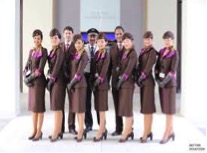 Ethiopian Airlines – Crew members on
Ethiopian Airlines
, wear green pantsuits and white shirts – sporting a sleek and confident look.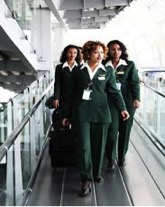 Alitalia Airlines – Air Hostesses of
Alitalia
, which is based in Italy, wear bright red and green geometric patterned dresses with a belt. They wear a tiered beret, and Their look dress also includes oblong buttons.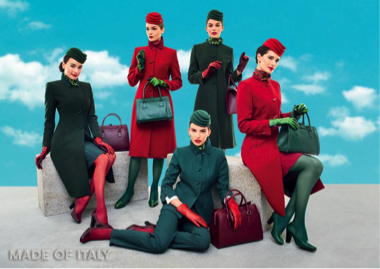 Cebu Pacific – This Airline is known for taking the casual approach to uniforms, and basically, they wear jeans and T-shirts.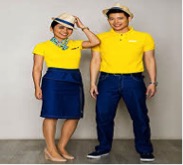 La Compagnie – An uber-chic Airline only having business class seats, (based in Paris), has Air Hostesses wearing blue and gray blazers with matching Bermuda shorts.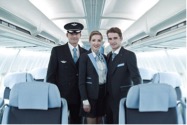 Garuda Indonesia – Members of this Airline wear orange or teal long skirts with a slit on the front. They complete their look with black peep-toe heels.

Avianca Airlines – This Airline is famous for the bright red dress and cloak like jackets of its flight attendants, is known for its red flight attendant uniforms that come with cloak-like jackets.

Conclusion:
Now, you can confidently say that your knowledge of the Air Hostess Uniform is up to the mark – for a serious Air Hostess aspirant.